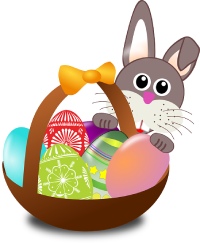 This Easter, dive into an exciting board game and 21 activity pages perfect for young children. Easter is a fun holiday for children, complete with treat-filled baskets and special crafts. The symbols of the holiday are equally fun: adorable baby chicks, chocolate bunnies, lovely spring flowers and, of course, the Easter bunny. These colorful Easter-themed worksheets can be great ways to keep your child learning while having fun, even if your routine changes for a few days. The worksheets on this page will give your child the chance to practice important skills ranging from letter tracing to following directions.
These Easter Worksheets include Bunny and Egg a captivating board game requiring strong addition skills. Bunny and Egg will challenge your child to use his playing piece to hop around the backyard game board, collecting Easter eggs as he goes. The catch is that each player can only keep the eggs he or she finds if the player is able to successfully complete the basic addition problem that accompanies each set of eggs. At the end of the game, the player who collects the most eggs is the winner.
The worksheets include a variety of pre-reading, handwriting, listening, visual discrimination and math activities. Additionally, on the bottom of each worksheet there is another suggestion for a fun Easter-related activity you can do with your child to continue the holiday-themed learning.